Request for Comments - Tropical Weather Outlook
---
The National Hurricane Center (NHC) issues Tropical Weather Outlooks that discuss areas of disturbed weather and their potential for tropical cyclone development during the next 48 hours. These products are issued every 6 hours for the Atlantic and eastern North Pacific ocean basins during the hurricane season. The Tropical Weather Outlook is issued in text and graphical form. The product has evolved during the past few years, with the first issuance of the graphical version in 2007, the introduction of categorical (low/medium/high) genesis forecasts in 2008, and the enhancement in 2010 of providing the probability of development in 10% increments in both the text and graphical versions of the Outlooks.
With these changes in mind, NHC is soliciting feedback from users on whether the current form, content, and time period covered by the Tropical Weather Outlook products meets their needs. Suggestions for improvements in the product are welcome, and you may submit the feedback form located below the following example.
Example of a Tropical Weather Outlook
---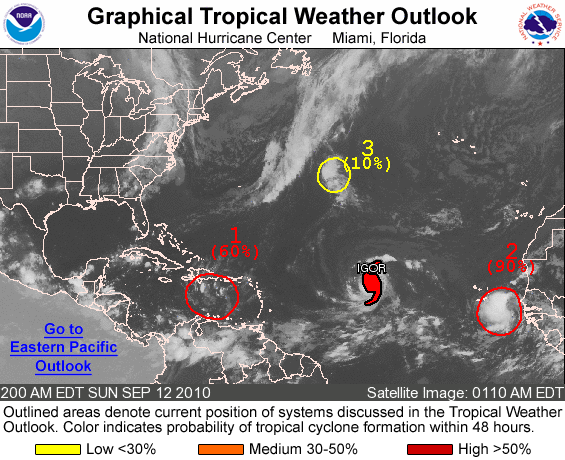 ZCZC MIATWOAT ALL
TTAA00 KNHC DDHHMM
TROPICAL WEATHER OUTLOOK
NWS TPC/NATIONAL HURRICANE CENTER MIAMI FL
200 AM EDT SUN SEP 12 2010

FOR THE NORTH ATLANTIC...CARIBBEAN SEA AND THE GULF OF MEXICO...

THE NATIONAL HURRICANE CENTER IS ISSUING ADVISORIES ON HURRICANE
IGOR...LOCATED ABOUT 1275 MILES EAST OF THE LEEWARD ISLANDS.

1. SHOWERS AND THUNDERSTORMS ARE LIMITED IN ASSOCIATION WITH A
BROAD AREA OF LOW PRESSURE LOCATED OVER THE EAST-CENTRAL CARIBBEAN
SEA.  HOWEVER...ENVIRONMENTAL CONDITIONS APPEAR FAVORABLE FOR
DEVELOPMENT OF THIS SYSTEM...AND A TROPICAL DEPRESSION COULD STILL
FORM DURING THE NEXT COUPLE OF DAYS AS IT MOVES WESTWARD NEAR 15
MPH.  THERE IS A HIGH CHANCE...60 PERCENT...OF THIS SYSTEM BECOMING
A TROPICAL CYCLONE DURING THE NEXT 48 HOURS.  REGARDLESS OF
DEVELOPMENT...LOCALLY HEAVY RAINFALL IS POSSIBLE IN THE VIRGIN
ISLANDS...PUERTO RICO...AND HISPANIOLA DURING THE NEXT DAY OR SO. 
THESE RAINS COULD CAUSE LIFE-THREATENING FLASH FLOODS AND MUD
SLIDES...ESPECIALLY IN MOUNTAINOUS TERRAIN.  

2. SHOWERS AND THUNDERSTORMS CONTINUE TO ORGANIZE IN ASSOCIATION WITH
AN AREA OF LOW PRESSURE LOCATED ABOUT 300 MILES EAST-SOUTHEAST OF
THE CAPE VERDE ISLANDS.  IF CURRENT TRENDS CONTINUE...ADVISORIES
COULD BE INITIATED AT ANY TIME TODAY. INTERESTS IN THE CAPE VERDE
ISLANDS SHOULD CLOSELY MONITOR THE PROGRESS OF THIS SYSTEM IN CASE
WATCHES OR WATCHES ARE REQUIRED.  THERE IS A HIGH CHANCE...90
PERCENT...OF THIS SYSTEM BECOMING A TROPICAL CYCLONE DURING THE
NEXT 48 HOURS AS IT MOVES GENERALLY WESTWARD AT 10 TO 15 MPH.  

3. A WEAK AREA OF LOW PRESSURE LOCATED ABOUT 900 MILES EAST OF BERMUDA
IS PRODUCING DISORGANIZED SHOWER ACTIVITY.  DEVELOPMENT OF THIS
SYSTEM APPEARS UNLIKELY BEFORE IT IS ABSORBED BY A FRONTAL SYSTEM
IN THE NEXT DAY OR SO.  THERE IS A LOW CHANCE...10 PERCENT...OF
THIS SYSTEM BECOMING A TROPICAL CYCLONE DURING THE NEXT 48 HOURS AS
IT MOVES NORTHWARD NEAR 20 MPH.

ELSEWHERE...TROPICAL CYCLONE FORMATION IS NOT EXPECTED DURING THE
NEXT 48 HOURS.

$$
FORECASTER CANGIALOSI
NNNN


---
Comment period has closed. For additional feedback, please contact us.