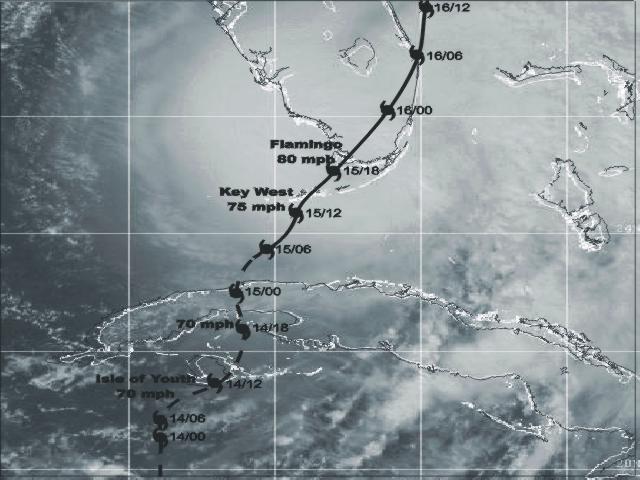 Figure 1. Detailed track of Irene showing the landfall points and a GOES 8 visible satellite image at the time of landfall near Flamingo, Florida.
a. Synoptic History
A broad area of low pressure prevailed over the southwestern Caribbean from the 8th to the 10th of October, accompanied by disorganized clouds and thunderstorms. This system did not show signs of tropical cyclone development until a tropical wave reached the western Caribbean Sea on 11 October. On the 12th, a U.S. Air Force Reserve reconnaissance plane was dispatched to the region and found an incipient low-level circulation and a broad low pressure area of 1006 mb just to the northeast of the coast of Honduras. However, the circulation was too disorganized to be classified as a tropical depression. Satellite imagery during the night showed that the thunderstorm activity increased and both banding features and upper-level outflow became quite distinct. Post -analysis of surface and upper-air data from Grand Cayman, and satellite Dvorak T-numbers indicate that Tropical Depression Thirteen formed in the northwestern Caribbean Sea about 0600 UTC 13 October. It reached tropical storm status by 1200 UTC on the 13th. Data from a reconnaissance aircraft later in the day confirmed Irene was a strengthening tropical storm. Irene moved on a general northward track and slowed down considerably before curving to the north-northeast just to the southwest of the Isle of Youth, Cuba, where it made its first landfall at 1200 UTC 14 October. Radars from Cuba and Key West showed the center of Irene moving on a north-northeast track over western Cuba. The center of the tropical cyclone then crossed the Havana and Ciudad Havana provinces between 2100 and 2300 UTC on the 14th. Irene reached hurricane status over the Florida Straits and the calm of the center moved over Key West near 1300 UTC 15 October. Most of the hurricane force winds were confined to the east of Irene's center over the lower to middle Florida Keys. Irene made its 4th landfall near Cape Sable, Florida and then moved across southeast Florida bringing tropical storm conditions (sustained 39-73 mph winds) and torrential rains (10 to 20 inches). Figure 1 is a visible satellite image of Irene near landfall. During the period while Irene was crossing Florida, sustained hurricane force winds appeared to be limited to squalls offshore the east coast of Florida, as reported by reconnaissance aircraft and indicated by available National Weather Service (NWS) surface observations and Doppler radar.
Irene moved back over water in northern Palm Beach County near Jupiter a little after 0000 UTC on the 16th. It retained hurricane strength and moved on a general northward track paralleling the Florida east coast heading for the Carolinas. An upper-level trough, sweeping eastward across the eastern United States, forced Irene on a fast northeast track. The core of Irene missed the mainland Carolinas but produced very heavy rains inland. It then brushed North Carolina's Outer Banks before moving out to sea.
During a 12-hour period beginning on the evening of the 18th, Irene went through a rapid intensification phase. The central pressure dropped from 978 to 958 mb and the winds increased from 70 to 95 knots. This may be attributable to a combination of a trough interaction and the tropical cyclone moving over very warm water. These two factors together have been known to be the cause of explosive deepening. Hurricane Opal (1995), while located in the Gulf of Mexico, was an example.
Thereafter, Irene continued to accelerate and finally became absorbed by a much larger extratropical low near Newfoundland. The system as a whole became an intense extratropical storm over the North Atlantic.
Irene's track is shown in Figure 2. Table 1 is a listing, at six-hourly intervals, of the best-track position, estimated minimum central pressure and maximum 1-minute surface wind speed.
b. Meteorological Statistics
The best track pressure and wind curves as a function of time are shown in Figure 3 and are primarily based on data provided from numerous reconnaissance missions flown into Irene by U.S. Air Force (Reserve) and NOAA Aircraft Operations Center aircraft. Satellite intensity estimates from the Tropical Analysis and Forecast Branch (TAFB), the Satellite Analysis Branch (SAB) and the Air Force Weather Agency, (AFGWC in figures) were also included in this analysis. Irene was under constant surveillance by three Cuban Weather Radars located at Havana, Isle of Youth and Pinar del Rio, respectively. Radar fixes were relayed to the National Hurricane Center by the Cuban Weather Service and then combined with fixes from Key West radar.
Irene was upgraded to tropical storm status based on a satellite intensity estimate from TAFB and upper-air data from Grand Cayman, which reported 38 knots at the 5,000-feet level and 31 knots near the surface when the tropical cyclone was about 150 n mi from that island. Operationally, Irene was upgraded to hurricane status just before landfall over the Isle of Youth. However, numerous observations from Cuba and a post-analysis of satellite imagery indicate that Irene was most likely a tropical storm while crossing Cuba. Peak winds reported from Cuba were 68 knots at Havana forecast office.
In addition to National Hurricane Service (NWS) reports, observations from the South Florida Water Management District, shown in Table 2, indicate that gusts to hurricane force were experienced near Lake Okeechobee. Based on the Miami WSR-88D (Weather Surveillance Radar -1988 Doppler) signatures, these gusts were likely produced by small-scale meso-cyclone induced downbursts. Four weak tornadoes occurred in Broward and Palm Beach counties.
The rapid intensification of Irene on the 18th off the North Carolina coast was documented by by a reconnaissance plane investigating the hurricane during that period. The report indicated a very small closed eyewall of about 3 n mi in diameter and 114 knot winds at 850-mb. A dropsonde in the eyewall measured 129 knots at the 902-mb level. The wind field was very small and highly asymmetric.
c. Casualty and Damage Statistics
There were 8 indirect casualties associated with Irene. They were five people electrocuted (four in Broward and one in Dade counties). There were three drowning in vehicles driving into canals (one in Palm Beach and two in Broward). In addition, there were three injured by tornadoes in Broward.
Irene caused considerably damage due to flooding in South Florida. In some residential areas. Flooding lasted for a week displacing several hundred people and isolating thousands more. The total losses (agricultural and property) were estimated near $600 millions mostly in Dade, Broward and Palm Beach counties. Additional losses to near $200 millions occurred in the rest of the state of Florida. An estimated 700,000 costumers lost electricity.
d. Forecast and Warning Critique
The average official track errors during Irene's life as a tropical storm or hurricane were 54 n mi at 12 hours (21 cases), 92 n mi at 24 hours (19 cases), 104 n mi at 36 hours (17 cases), 127 n mi at 48 hours (15 cases) and 221 n mi at 72 hours (11 cases). With the exception of the 12- to 24-hour forecasts, these errors are lower than the previous 10-year averages of the official track errors. These 10-year average errors are 48, 89, 128, 164 and 242 n mi for 12, 24 ,36, 48 and 72 hours, respectively.
Table 3 lists the numerous watches and warnings issued. Some residents of southeast Florida expressed displeasure with the NWS forecasts. Although a tropical storm warning was issued for a portion of southeast Florida (meaning sustained winds between 39 and 73 mph) as indicated in Table 3, and torrential rains of 10 to 20 inches with locally higher amounts were forecast, some residents, especially in southeast Florida claimed that such conditions were "unexpected" or "surprising". There is an apparent disconnect between an accurate forecast issued some 36 hours in advance and a public perception of "surprise". The remedial challenge in this case appears to be related to communications and not to the forecast. The combined resources of NWS, the emergency management community and the local media apparently did not adequately convey the message to the public that: (a) track forecasts are not exact; (b) hurricanes are not a point but cover a broad area; and (c) serious effects usually extend for hundreds of miles from the center. Instead, some residents, as well as isolated TV reporting, focused on the center of Irene.
Indeed, the center of Irene was forecast to move along the west coast of Florida as indicated by most of the reliable and state-of-the-art track models shown in Fig. 4a. Instead, the center of Irene kept moving toward the north-northeast. The NHC nevertheless factored uncertainties into its forecast advisories and issued warnings appropriately as shown in Fig. 4b.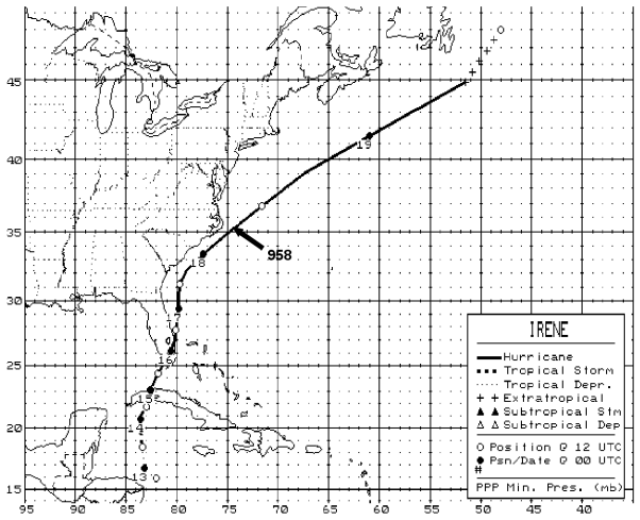 Figure 2. Best track positions for Hurricane Irene, 13-19 October, 1999.

(A)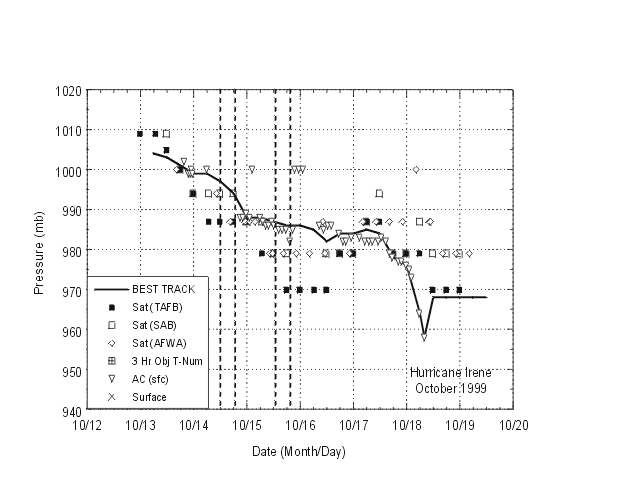 (B)



Figure 3. (A) Preliminary best track minimum central pressure and (B) maximum sustained wind speed curves for Hurricane Irene. Vertical dashed lines denote landfalls.

(A)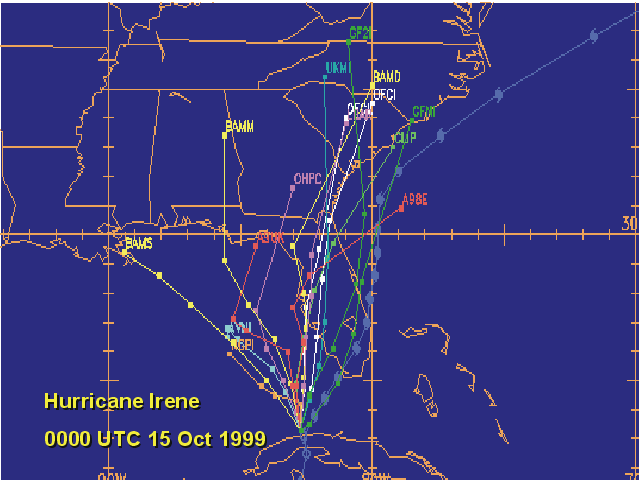 (B)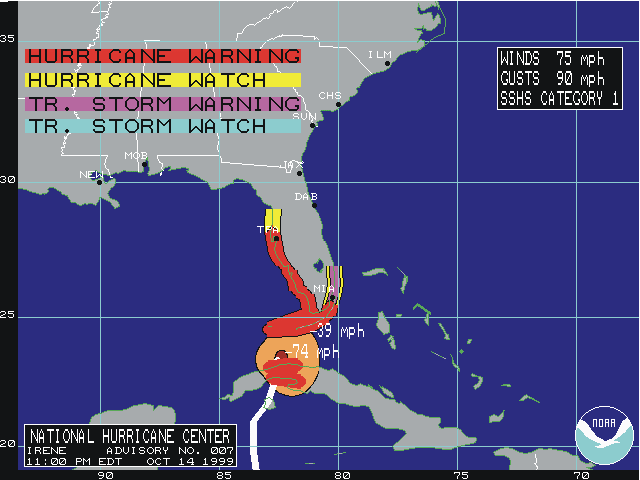 Figure 4. (A) Track forecast models and best track of Irene and (B) warnings and watches for Irene at 0000 UTC 14 October, 1999.



---